I have always loved doing the laundry; there is something satisfying about it–in with the dirty clothes, out with the new, fresh clean clothes. Even folding the clothes, sheets, towels, what have you—it's all good. Once all those nice clean and fresh-smelling items are put back in place, I feel that I done something worthy.
The Crankee Yankee gets a kick out of how I herd up as many dirty items as I can; hey—the more, the merrier! There is nothing like fresh, clean towels and sheets, too. However, I have to be very casual about putting clean sheets on the bed. Our yellow cat, Bailey, is a fool for fresh sheets. If he sees me strip the bed of well-used sheets, he knows what comes next: a wonderful romp on the naked bed while I'm trying to put the new clean sheets on it.
And don't we have it easy these days as far as laundry goes! As a child, I used to help my grandmother wash clothes in an old-fashioned washer, wringer and "dryer." Below is pretty much what my grandmother had to wash clothes in. The "wringer" on top was there to squeeze the water out of the clothing: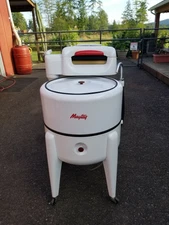 I heard this a hundred times: "don't put your hand in the wringer!" (Why would I?!) Once all the clothing was squeezed to dampness, it was time to put the clothes on the line outside with wooden "pins." After that, the sun did all the drying. That was all well and good in the warm months, but the same had to be done in the cold months as well. Believe me, it's no picnic hauling in clothes that are literally hard and icy.
But all that aside, I have always loved doing the laundry. There is something satisfying about it that makes me happy. The Crankee Yankee now calls me the Laundry Queen. I told him that I am still waiting for my crown!